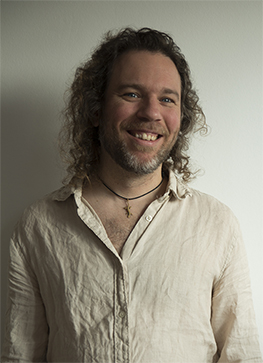 Born in Barcelona, I'm studying organ since I was 8, an instrument that fascinates me. My formation was later complemented by training in classical piano, electric guitar and arrangements with several teachers. I also make a small inroad in choral direction.
Through the various groups that I've been a part of, and in having the opportunity to play in a number of places and festivals in Barcelona and the rest of the country, I discovered the art of composition and arrangements. This journey of discovery led me to Paris in 2006, where I first focused on orchestral arrangements and composition in the conservatory with Pascal Zavaro, and later on with Carine Bonnefoy with whom I also took courses on piano jazz.
Currently, in addition to composing and arranging various projects in both France and Spain, I create my own jazz quartet in 2011 on rhodes with Nicolas Berthelot (sx), Nicolas Pain (bs) and Florent Danset (dr) as well. With this band we record a first LP in 2013, "Un paradís trobat". I also accompany in concerts as well as in record productions the projects of Emmaelle (2010-2013), An-Liz (2013-2015), Little Titanic Orchestra (2013-2014), La Familiale with Thomasi (2017-), Pédro Kouyaté (2018) among others.
Attracted by film scoring since my youngest age, I had the opportunity to work on various short films and documentaries since 2009. For the Buster Keaton's classic "Coney Island"; a creation presented in various concerts-cinemas at the Festival Côté Court in Pantin, Paris (June 2009); the movie by Silvia Gómez "Le sac", the documentary "La fàbrica de records" by Isaac Cañizares, the fictions "Una comédia romántica" and "Superchavalas" by Carol Rodríguez, "The Dream Player" by Curro Royo and more recently "Sauvons-nous" by José Manuel Rodríguez Sterling.
I combine my musical activity with the teaching of piano, guitar and composition.